It's finally April! Flowers will start blooming soon, ushering in a new season and leaving winter in the rearview mirror. But amid that change, we cannot forget that it's National Fair Housing Month, a time to remark on our progress in housing equality and discuss solutions to the problems we still face today.
Of course, access to housing is among the largest public policy issues in the country. In cities like Denver and Los Angeles, we see thousands of residents left exposed to the elements, and in many cases, unable to secure government assistance or acknowledgement. On top of that, there are wide disparities in homeownership, especially along racial and ethnic lines. And even further, we could highlight narrower issues like hostile architecture, designed to make unhoused life less comfortable.
Another area of concern is the gap in home appreciation value for Black and Brown homeowners.
This discussion begins in the same place as so many others we have: redlining. In the early 1900s, banks systematically denied home loans to Black families looking to move into predominantly white neighborhoods. As a result, Black families often ended up concentrated in one area of the city. This let local officials ignore said area, underinvesting in public works and economic development projects there. Another result of redlining was the general inability of Black residents to sell their homes at a fair rate, hampering efforts to create intergenerational wealth.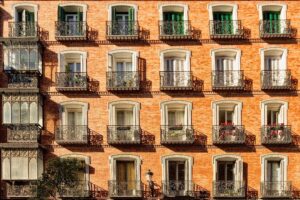 Those clusters of Black families still exist today, which you've likely noticed in larger cities. These majority-minority neighborhoods are earmarked by fewer trees, higher temperatures, and insufficient job opportunities. But invisible to your eyes is the disparity in home value appreciation.
In fact, since the housing market crash of 2008, white borrowers have seen their home values increase across all income levels. This group's homes have become 1%, 3%, and 5% more valuable for low, medium, and high-earning families, respectively. On the other hand, home values for Black families have all decreased in the same time span. For low-income borrowers, values have fallen 8%. And for the highest Black earners, values have fallen 2%. The disparity, then, is as pronounced as it is difficult to see.
Additionally, Black families seeking home loans often plan to move into mostly Black areas. This concentration of homeownership by race only furthers the inequities and underinvestment we see as the result of redlining. Clearly, the problem has not totally resolved itself.
Fortunately, there are solutions to these complex issues. Namely, we can build an infrastructure to enforce fair housing laws beyond what the federal government has done. The Trump administration rolled back several fair housing protections. For example, his Department of Housing and Urban Development (HUD) repealed the 2015 Affirmative Furthering Fair Housing (AFFH) rule. This departmental guideline gave HUD funding recipients a tool to analyze local fair housing obstacles and identify patterns of segregation. As of 2018, HUD can no longer gather this insight from its partners. Reinstating that rule would help the federal government aggregate data and craft informed public policy.
Additionally, Congress should approve statutory enforcement of fair housing laws. The burden of enforcing such laws shouldn't fall to the victim of discrimination, but rather be an equal, accessible right for all. This can help end the vicious cycle of intergenerational poverty spurred by unfair housing laws.
The month is just beginning. Let's spend it in talks about the importance of fair housing and how we can take an idea and make it a reality.