FIND OUT THE LATEST NEWS ON THE MOVEMENT
Latest News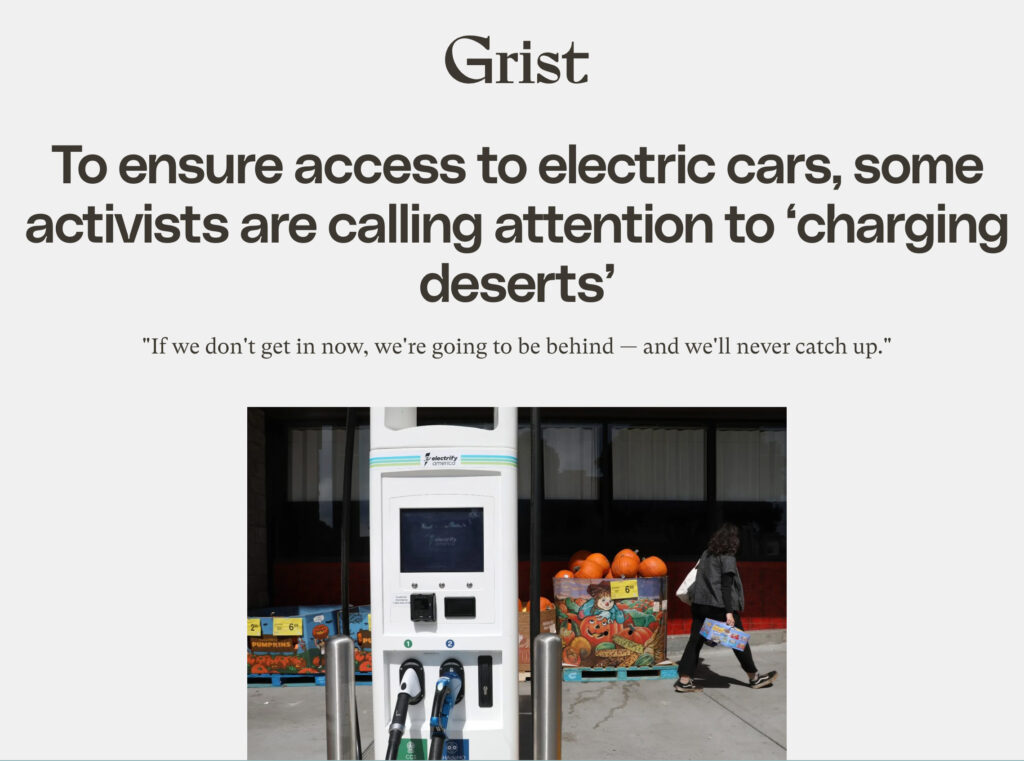 To ensure access to electric cars, some activists are calling attention to 'charging deserts'

"If we don't get in now, we're going to be behind — and we'll never catch up." Advocates for low-income communities and people of color have long argued that if electric cars are necessary for American roads and the health of the planet, then they should be accessible to all Americans, not just the ones with disposable income.
Read More..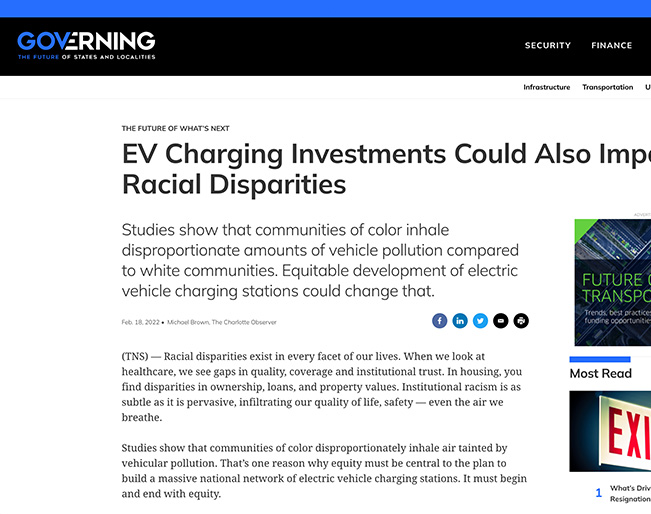 EV Charging Investments Could Also Impact Racial Disparities
Studies show that communities of color inhale disproportionate amounts of vehicle pollution compared to white communities. Equitable development of electric vehicle charging stations could change that.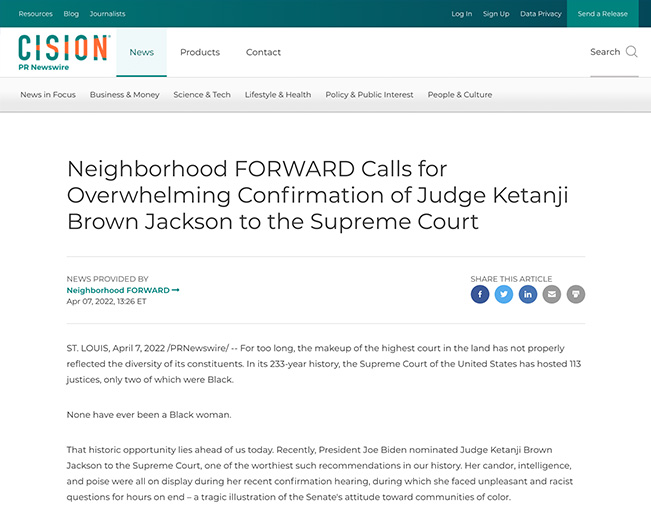 Neighborhood FORWARD Calls for Overwhelming Confirmation of Judge Ketanji Brown Jackson to the Supreme Court
ST. LOUIS, April 7, 2022 /PRNewswire/ — For too long, the makeup of the highest court in the land has not properly reflected the diversity of its constituents. In its 233-year history, the Supreme Court of the United States has hosted 113 justices, only two of which were Black.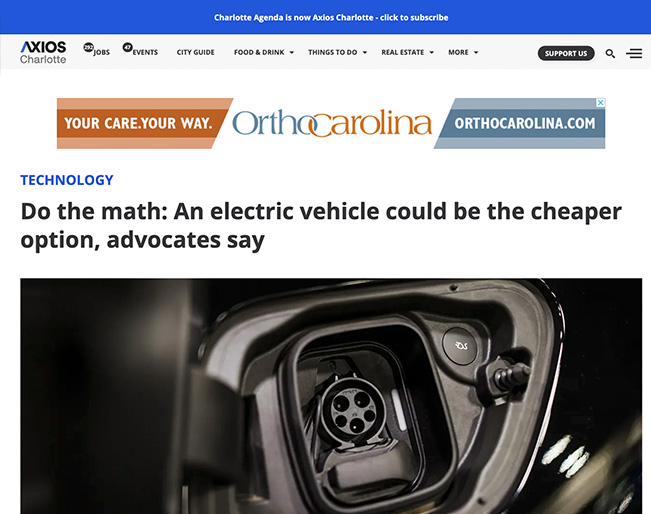 Do the math: An electric vehicle could be the cheaper option, advocates say
One day in the future, electric vehicle owners could outnumber those who own regular gas-powered cars. Before that happens, we have to clarify misconceptions about pricing and practicality that serve as cultural barriers to some people, according to electric vehicle owner Jose Alvarez.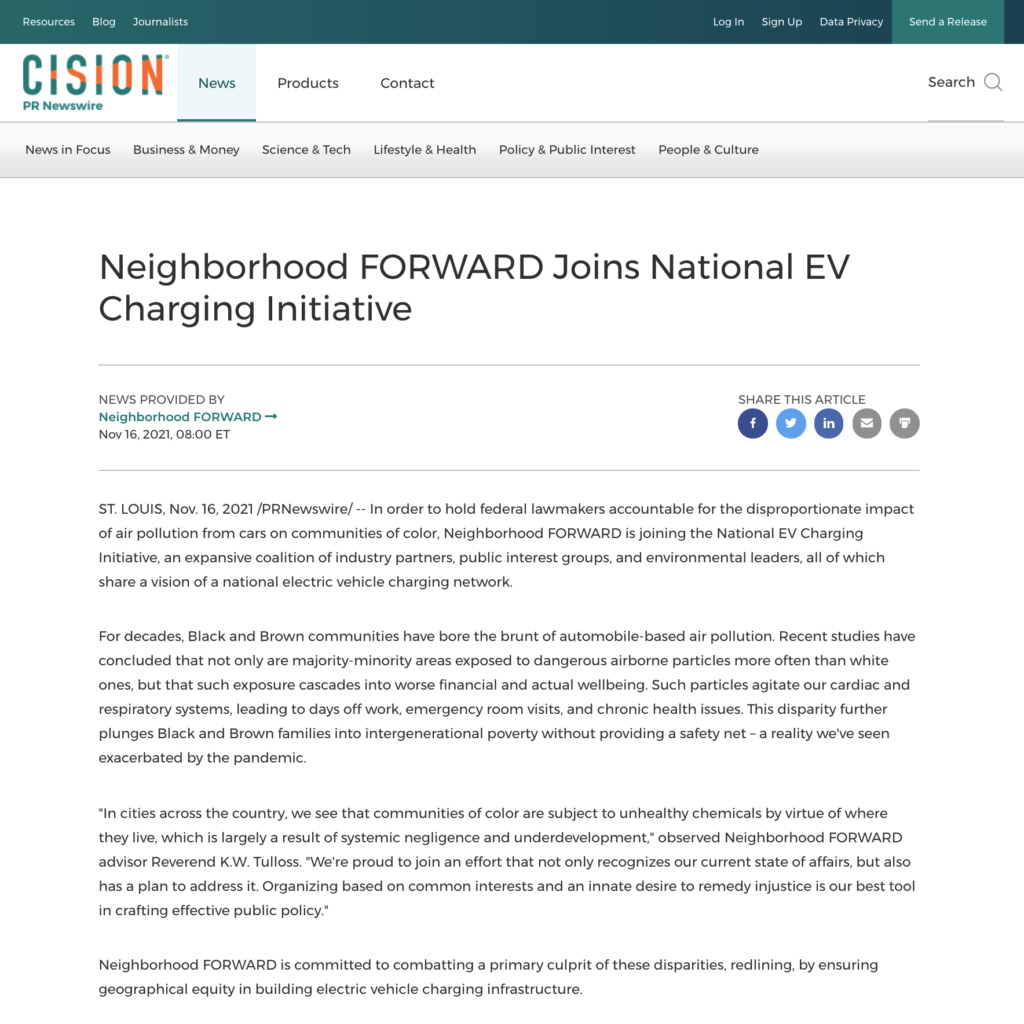 Neighborhood Forward Joins National EV Charging Initiative
In order to hold federal lawmakers accountable for the disproportionate impact of air pollution from cars on communities of color, Neighborhood FORWARD is joining the National EV Charging Initiative, an expansive coalition of industry partners, public interest groups, and environmental leaders, all of which share a vision of a national electric vehicle charging network.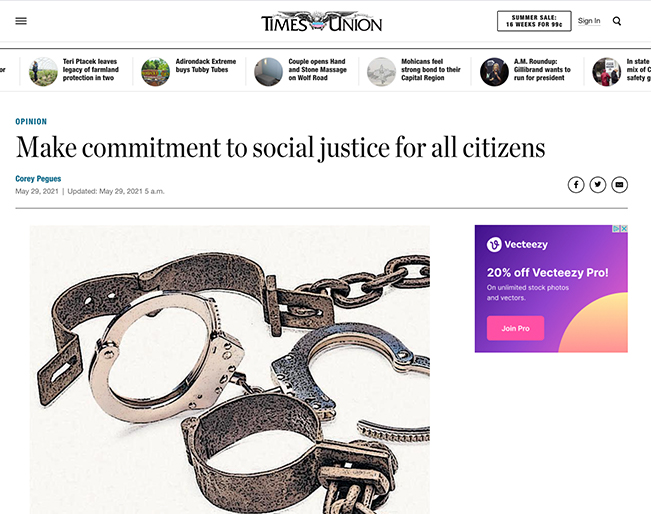 Make commitment to social justice for all citizens
Most people don't know slave patrols were one of the early forms of American policing. White Southerners lived in constant fear of slave rebellions that would upset the status quo. Two hundred years later, modern policing reflects the brutality and racism of its vigilante origins.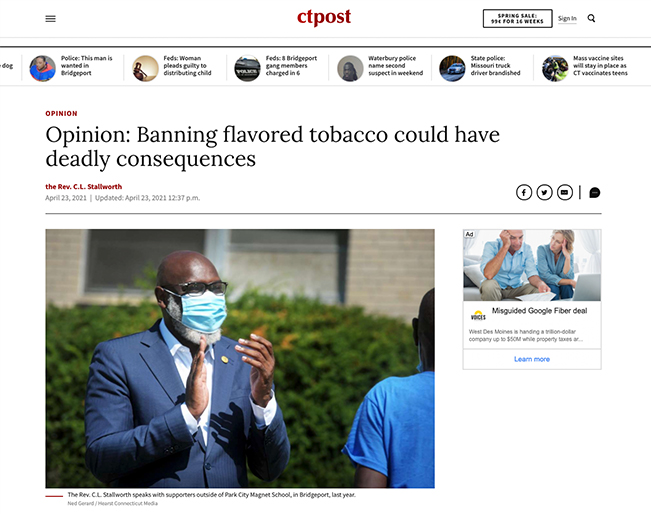 Opinion: Banning flavored tobacco could have deadly consequences
It seems almost weekly there is another incidence where an African American or Latinx person is getting stopped by law enforcement for doing something, almost anything while being Black.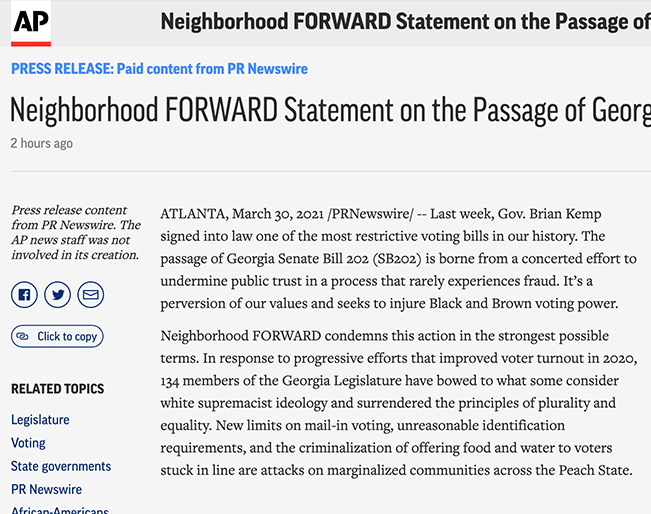 Neighborhood FORWARD Statement on the Passage of Georgia Senate Bill 202
ATLANTA, March 30, 2021 /PRNewswire/ — Last week, Gov. Brian Kemp signed into law one of the most restrictive voting bills in our history. The passage of Georgia Senate Bill 202 (SB202) is borne from a concerted effort to undermine public trust in a process that rarely experiences fraud.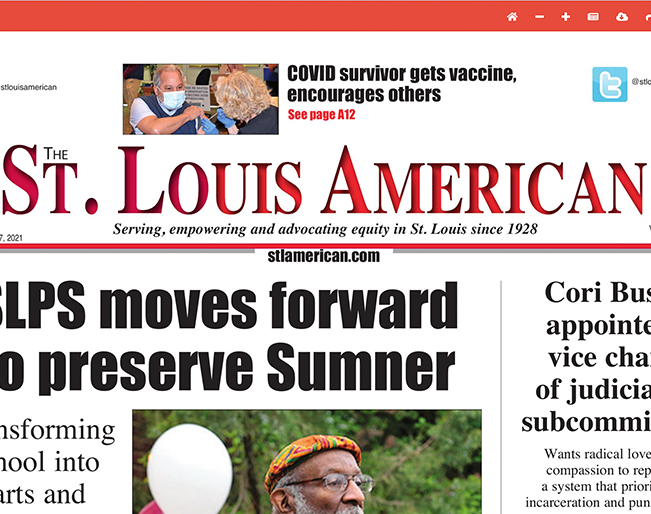 SLACO works to register, educate ahead of April election
The St. Louis Association of Organizations (SLACO) has worked with 33 neighborhoods since March 1, to register 25 new voters in the city for April's election – an effort that will continue by educating voters through social media outreach.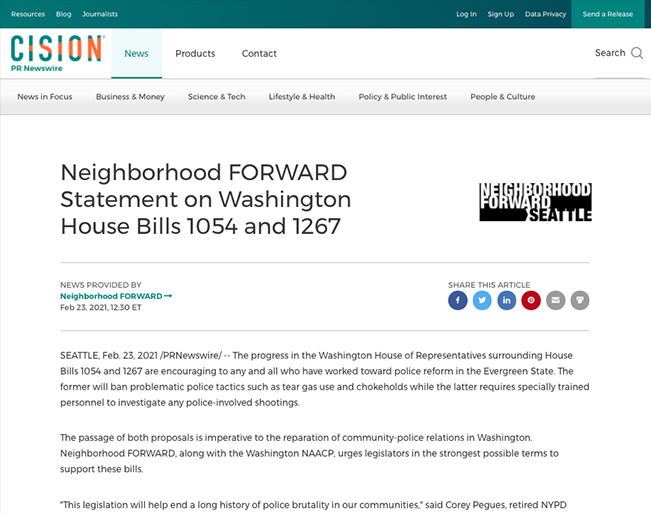 Neighborhood FORWARD Statement on Washington House Bills 1054 and 1267
SEATTLE, Feb. 23, 2021 /PRNewswire/ — The progress in the Washington House of Representatives surrounding House Bills 1054 and 1267 are encouraging to any and all who have worked toward police reform in the Evergreen State. The former will ban problematic police tactics such as tear gas use and chokeholds while the latter requires specially trained personnel to investigate any police-involved shootings.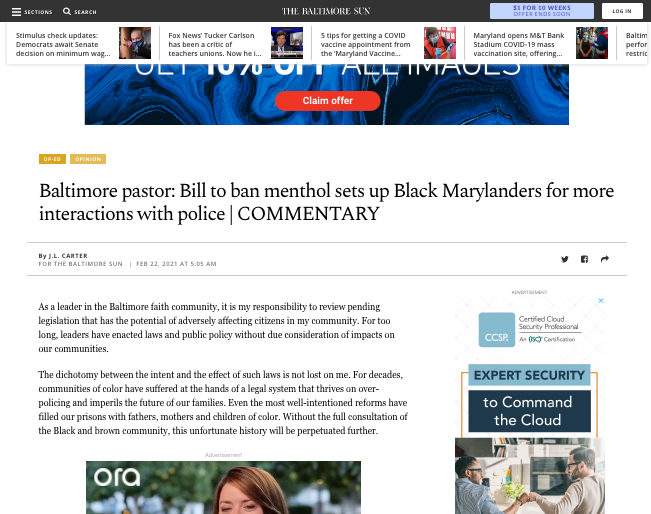 Baltimore pastor: Bill to ban menthol sets up Black Marylanders for more interactions with police
As a leader in the Baltimore faith community, it is my responsibility to review pending legislation that has the potential of adversely affecting citizens in my community. For too long, leaders have enacted laws and public policy without due consideration of impacts on our communities.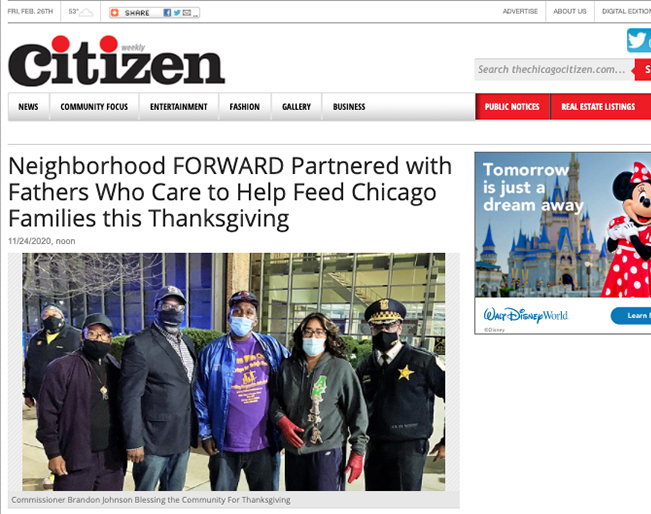 Neighborhood FORWARD Partnered with Fathers Who Care to Help Feed Chicago Families this Thanksgiving
The COVID-19 pandemic will make this holiday season especially challenging for many families, but with the help of organizations such as Fathers Who Care and Westside Community Stakeholders serving the community, the season looks a little brighter.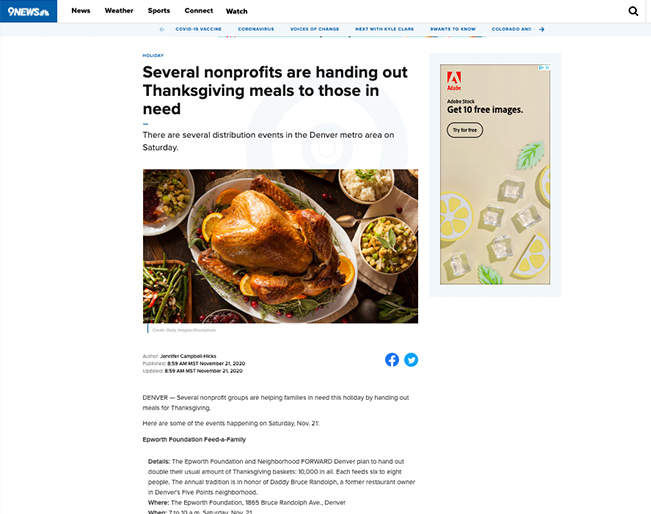 Several nonprofits are handing out Thanksgiving meals to those in need
DENVER — Several nonprofit groups are helping families in need this holiday by handing out meals for Thanksgiving. Epworth Foundation Feed-a-FamilyDetails: The Epworth Foundation and Neighborhood FORWARD Denver plan to hand out double their usual amount of Thanksgiving baskets: 10,000 in all. Each feeds six to eight people. The annual tradition is in honor of Daddy Bruce Randolph, a former restaurant owner in Denver's Five Points neighborhood.