June is Pride Month, meaning it's an excellent time to discuss people of color in queer history. Some folks forget the integral role Black and Latino activists played in establishing what we know today as Pride Month. Furthermore, we must combat whitewashed accounts of LGBTQ+ history by celebrating these trailblazers and their stories.
The Stonewall riots in June 1969 are widely regarded as one of the most important milestones in the gay rights movement. Police in New York City's Greenwich Village neighborhood utilized a warrant to raid a gay bar and arrest gender non-conforming people, which was legal due to New York state law at the time. Gay men of color and drag queens filled the bar, fighting back by throwing bricks and other projectiles. This of course wasn't the first gay liberation riot, with other notable events preceding it like Compton's Cafeteria riot. However, it is the event that kickstarted the Pride Month tradition, giving rise to the phrase, "The First Pride Was a Riot."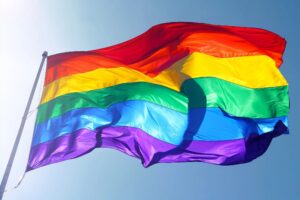 Stonewall's importance to the LGBTQ+ movement cannot be overstated, yet some accounts of the riots in popular culture don't tell the whole story. The 2015 film, "Stonewall" received strong backlash as many critics lamented the erasure of trans individuals and people of color. The movie's protagonist is white and cisgender, despite the role trans women of color played during the real Stonewall riots. Marsha P. Johnson and Sylvia Rivera are widely recognized as leaders at Stonewall and for the gay liberation movement as a whole, yet they are reduced to minor characters in the screenplay depiction.
The exclusion of queer Black and Brown bodies is anything but a new phenomenon. When looking back on gay liberation history, it's important to remember what it meant to be both queer and a person of color. A year and a half after Stonewall, the Red Room protest in Houston, Texas showed how the gay liberation movement was not devoid of racism. The bar's owner was welcoming of only white LGBTQ+ individuals, prompting an organized protest and boycott. In response, organizers wrote, "These racist attitudes oppress all gays as long as the Red Room and others discriminate against blacks," and that sentiment still rings true today.
As Pride Month winds down, we must never forget the intersectional struggle of trailblazers like Johnson and Rivera. At the time, very few spaces were welcoming of LGBTQ+ folks and even fewer spaces were welcoming of LGBTQ+ people of color. Facing both racism and homophobia, these trailblazers stood tall and proud despite experiencing vile bigotry.
May we remind our friends that true allyship and advocacy are not exclusive of any particular group. Let's uplift our LGBTQ+ friends and family by taking a moment to remember the people of color that were vitally important leaders in the gay liberation movement.