Earlier this month, the Senate confirmed Ketanji Brown Jackson to the Supreme Court. Maybe you heard about it? We truly hope so, given it's the first time the president nominated a Black woman to that role – let alone the first time the Senate has confirmed as such. Right now, the Supreme Court, or SCOTUS, is more diverse than it ever has been, a process that has taken decades.
When you consider the history that Ketanji Brown Jackson was able to overcome, her confirmation becomes even more impressive.
In its 233-year history, there have only been four justices of color. Those are Thurgood Marshall, Clarence Thomas, Sonia Sotomayor, and of course, Ketanji Brown Jackson. No minority justices have ever served as chief justice, either. Only six were born outside of the United States, and most of them were from northern or western European countries. Several ethnic groups have never been nominated for the Supreme Court, either. These include Asian, Native American, or Pacific Islander candidates, although a few have been considered over the years.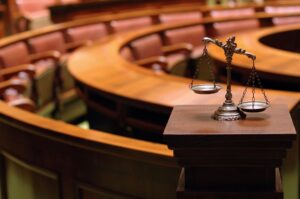 Before last week, SCOTUS has only hosted five women, those being Sandra Day O'Connor, Ruth Bader Ginsburg, Sonia Sotomayor, Elena Kagan, and Amy Coney Barrett. It took nearly 200 years for a president to first nominate a female justice. As is true with nonwhite justices, no woman has ever served as chief justice.
These same unfortunate barriers hold true across several demographics. No Supreme Court justice has identified as anything other than heterosexual. As of today, the worst law school that a justice hails from is Notre Dame, which ranks 25th in the country according to U.S. News and World Report. Most of our 115 justices have come from upper-middle to elite social standing. In fact, in 2008, seven of the nine sitting justices were millionaires.
The court's well-documented history reflects the very obstacles that Black and Brown citizens face every single day, ranging from higher education to intergenerational wealth. It's only recently that other groups have begun to see themselves in the faces of our ultimate judicial thinkers.
Of course, the confirmation of Justice Ketanji Brown Jackson doesn't erase over two centuries of prejudice and exclusion. It is, however, a sign of progress that the bench is slowly beginning to reflect our country's greatest strength: plurality.
It's only when our thought leaders and elected officials reflect their constituents that we'll truly move forward together. To be a truly representative form of government, every voice needs a seat at the table. The Supreme Court is the highest judicial body in the land, implicitly shifting public policy day in and day out. Even if Congress was perfectly representative of the electorate, we wouldn't be finished without considering the Supreme Court.
We'll leave you with an examination of the 2020 census and how the court would look if it was truly representative of the country it governs.
In that scenario, SCOTUS would boast 1.2 Black justices and 1.7 Hispanic justices. It would host 4.6 female justices and 1.2 foreign-born justices. The average personal wealth of a justice would be roughly $5.3 million less than it is now and only 1.5 justices would be over the age of 65. To put it briefly, the Supreme Court will never accurately reflect our country's makeup. But at least it's starting to.