With the holidays right around the corner, so is Black Friday, Cyber Monday, and the gift-giving season. Now is the time to think and plan for what you will be giving to family and loved ones. 
According to a 2022 survey conducted by Deloitte, Americans spent about $1,455 on holiday shopping. Despite the billions of dollars spent during the holiday season, Black businesses face a disproportionate amount of challenges, mainly due to a lack of capital. Shopping at small or Black-owned businesses can have a greater impact than shopping at large franchises and corporations.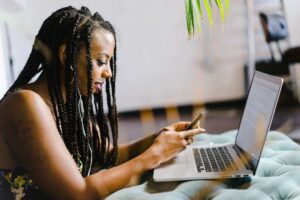 Here are five reasons to shop at Black-owned businesses this holiday season.
Creates generational wealth

Owning a business is a strong way to create generational wealth. A prosperous business isn't always guaranteed, so financially supporting Black-owned businesses is one way to contribute towards its success. These purchases also may contribute to an individual or family's growth of wealth. This wealth can ensure financial stability for future generations. 
Unique products and services

Black or minority-owned businesses may provide unique products and services not available in the mainstream market. Oftentimes in large businesses, it may be difficult to find products and services catered to people of color's needs. Black-owned businesses can fill the gap in the market for authentic, innovative, and culturally rich goods and services.
 Social impact and empowerment

Choosing to support Black-owned businesses is a way to actively participate in social change. It contributes to a more equitable society and helps dismantle systemic barriers that have historically hindered Black entrepreneurs.
Foster diversity in the marketplace

Supporting Black-owned businesses promotes diversity in the marketplace, encourages inclusivity, and breaks stereotypes. This creates a more inclusive business environment and helps break stereotypes by showcasing diverse products and services.
Strengthen communities and contribute to development

Shopping at Black-owned businesses promotes economic empowerment in the Black community by creating jobs, fostering entrepreneurship, generating wealth, and supporting community initiatives through reinvestment of profits.