In October, our blog covered ballot measures across several states and topics. From voting rights to recreational marijuana and more, we're revisiting the ballot measures to see how they fared.
Voting Rights
In our first blog about ballot measures, we covered seven states with voting-related ballot measures. Five of six were approved in November, and Louisiana votes on Amendment 1 in December.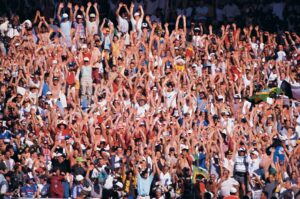 Recreational Marijuana
Of the five ballot measures seeking to legalize cannabis, Missouri and Maryland prevailed. Residents of Arkansas, North Dakota, and South Dakota voted against legalizing cannabis for recreational use.
Enslavement, Servitude, and Criminal Punishment
Voters in Alabama, Oregon, Tennessee, and Vermont approved ballot measures to remove racist language and involuntary servitude from their state constitutions. In Louisiana, however, Amendment 7 failed by over 20%.
There were two main issues that contributed to the result, the first being voter confusion over the amendment's language. The second issue was the amendment not going far enough; it still allowed for forced labor in prison, making the measure the same as the 13th Amendment to the U.S. Constitution. Reported by NBC News, Black voters in the state are rightly feeling confused, angry, and embarrassed. We hope the amendment will be reworked and brought back in another election soon.
Other ballot measures
In Colorado, voters approved Proposition 123, which will create an affordable housing fund. The state will now have several new programs aimed toward building affordable housing and keeping folks in their homes.
Voters in Nebraska and Nevada approved minimum wage increases for their respective states. Initiative 433will bring Nebraska minimum wage to $15 by 2026. Question 2 increased Nevada's minimum wage to $12 by July 1, 2024, and now allows the state legislature to pass minimum wage laws higher than $12.
New York voters, through approval of Proposal 1, acted on climate change and environmental justice. Over $4 billion will now be used on initiatives related to the environment, natural resources, water infrastructure, and climate change mitigation. At least 35% of the money will go to disadvantaged communities; it's great to see the strong pursuit of environmental justice.
Ballot measures, such as these, can make a huge difference on state policy. It's important to be informed each election about the proposals on the ballot in your state, in addition to being knowledgeable about the candidates.