Over the last few weeks, our blog has analyzed ballot measures that'll be decided by voters in the upcoming midterm election. Not only is it important to know what's on your ballot, but it's important to know who is on your ballot. This week's blog focuses on an encouraging and exciting trend of the 2022 election cycle – Black women running for office in record numbers. Up until now, only two Black women have ever served in the U.S. Senate and only 21 Black women in the U.S. House of Representatives. No state has ever elected a Black woman to the governorship.
According to the Center for American Women and Politics at Rutgers' Eagleton Institute of Politics, the 2022 primary and general elections featured 134 Black women running for the U.S. House of Representatives, a figure which includes 105 Democrats and 29 Republicans. It's a new record, jumping from 117 in the 2020 election and 80 in 2018. We can't cover all the Black women running for U.S. House, so we'll look at some of the most competitive races.
Jahana Hayes was first elected to represent CT-05 in 2018, when she became the first Black woman and first Black Democrat to represent the state in Congress. A former public school educator, she's facing a tight reelection race against George Logan.
In IN-01, Jennifer-Ruth Green is a Republican challenging incumbent Democrat Frank Mrvan. Green has a background in the U.S. Air Force and as an educator in northwest Indiana.
Emilia Sykes is a Democrat running in Ohio's District 13, after serving as a state representative since 2015 and the minority leader from 2019 to 2021.
The number of Black women running for the U.S. Senate reached a new high in 2022 with 22 candidates, including 16 Democrats and six Republicans. 13 Black women ran for the U.S. Senate in 2020 and only six in 2018.
In Florida, Val Demings is a Democrat vying to unseat Republican Sen. Marco Rubio. She has served in the U.S. House since 2016, and before that served as the Orlando Police Department chief.
In another competitive Senate race, Democrat Cheri Beasley is running against Republican Rep. Ted Budd. Beasley was an associate justice of the North Carolina Supreme Court from 2012 until 2019 when she became the first Black woman to serve as chief justice in the state.
The 2022 cycle boasted 12 Black women running for gubernatorial office, which is up from zero in 2020 and six in 2018. 11 of the women running this year are Democrats and one is a Republican.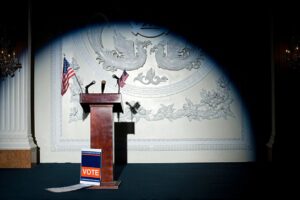 The Georgia gubernatorial race features Stacey Abrams running against Gov. Brian Kemp, to whom she narrowly lost in 2018. That year, she became the first Black woman to be a major party gubernatorial nominee and afterward founded an organization to combat voter suppression.
Iowa is another state in which a Black woman is on the general election ballot, as Democrat Deidre DeJear is running to unseat Gov. Kim Reynolds. She's a small business owner and ran for secretary of state in 2018.
2022 has been a historic election cycle for Black women, and we can only hope the records will be broken again in 2024. Congratulations to all the candidates – Black women belong in office!