In our last blog before the midterm election, we discussed the historic number of Black women running for office. Now we've seen the results from the election, and several Black candidates made history. From state elected offices to the U.S. Congress, let's take a look at some of the history-makers from the 2022 election.
Governor
Wes Moore was the only Black candidate to win a governorship this cycle, making him the third Black governor in history and the first Black governor in Maryland history. We still await the day a Black woman is elected governor; keep an eye out for 2024.
Lieutenant Governor
Alongside new Gov. Josh Shapiro, Austin Davis was elected Pennsylvania's first Black lieutenant governor. He also holds the title of highest ranking Black official in the commonwealth.
Attorney General
Three Black attorneys general were elected this cycle, all of which were the first Black AG in their respective states. Anthony Brown was elected in Maryland as the first Black AG in the state. Andrea Campbell became the first Black female AG in Massachusetts.
Secretary of State
In 2021, Shirley Weber became the first Black secretary of state in California when Gov. Newsom appointed her. This election cycle, she became the first Black secretary of state elected in California. In Connecticut, Stephanie Thomas became the first Black woman elected secretary of state in Connecticut.
U.S. Senate
Of the Senate races that have been called, we didn't see any new Black candidates win. However, Georgia is heading to a runoff, and we could have a new Black senator if Herschel Walker wins. Walker is on the ballot against Reverend Raphael Warnock who was elected in 2020. Warnock has already made history of his own, becoming the first Black senator from Georgia and the first Black Democrat elected to the Senate by a former Confederacy state. We won't know the winner of the seat until Dec. 6 or after.
U.S. House of Representatives
Several Black candidates won House races, including two of the three we discussed in the last blog. Jahana Hayes was reelected to represent CT-05, and Emilia Sykes won in OH-13. Additionally, Summer Lee was elected in PA-12, making her the first Black woman from Pennsylvania to serve in Congress. John James also made history in Michigan as the first Black Republican to represent the state.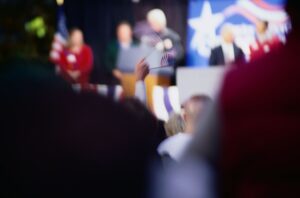 Congratulations to all the winners and history-makers. We look forward to Black folks continuing to run for elected office in record numbers, making our government more representative of the population.