The pandemic exposed the lack of affordable housing throughout the country. But disparities in Black homeownership have existed for decades.
In fact, homeownership gaps are worse today than in 1960.
Back then, white people and Black people owned homes at a 65% and 38% rate, respectively. This 27-point difference widened to 30 as of 2017. Any progress made following the 1968 Fair Housing Act was wiped out by the subprime mortgage crisis of the late-2000s.
People of color were disproportionately victims of predatory loan practices. In other words, financial institutions offered them subprime loans even if they qualified for prime loans. Black homebuyers also bought more homes during the bubble than their white and Asian counterparts. The housing market took advantage of Black homeowners when things were going well, so the mortgage crisis hit them especially hard.
This tool by the Urban Institute clearly demonstrates the effect of the crisis on minority homeownership. Every yellow dot and pink dot on the left represents 10 mortgages in 2006 from Black and Hispanic homeowners, respectively. On the right is the same map following the market's crash in 2010. See the difference?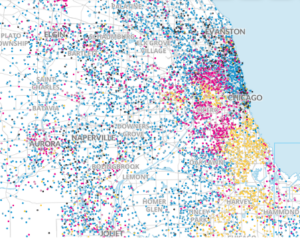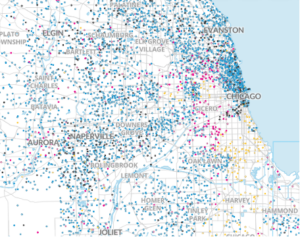 The effects of the crash devastated Black and Hispanic homeownership. Since then, the recovery for Black families has lagged behind that for white families as well. After 2010, Black homeownership rates actually fell 5%. The map below is from 2019 and shows that Black homeownership hasn't recovered.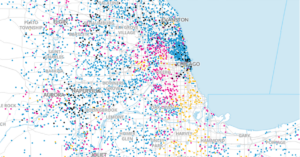 This slow progress has widespread impacts on marginalized communities. Mortgages are still one of the best ways to build family wealth. Homeowners can find tax breaks, build credit, and homes often appreciate in value. Barriers to the housing market prevent families of color from securing these benefits.
When our institutions effectively prevent people from creating intergenerational wealth, they're locking families into poverty for decades. This process began decades ago with redlining, in which banks refused to give home loans to families of color depending on where they wanted to move.
So now, our cities are full of minority-dominated areas and primarily white areas. Redlining creates underinvestment in communities of color and hampered wealth creation for generations.
Redlining is systemic racism – and minority homeownership is yet another effect.
By offering advantageous home loans and increased tax credits, we can begin to reverse the effects of redlining and reduce homeownership disparities. At some point, we must work to break the cycle of poverty for millions. There's no time like the present.