Rev. Martin Luther King Jr. was an undeniable force for good. He organized the March on Washington, the Montgomery bus boycott, and dozens of other sit-in protests against segregation and the war in Vietnam. For his efforts, he was awarded the Presidential Medal of Freedom and the Nobel Peace Prize. He was the youngest man to ever hold the latter honor.
On April 4, 1968, Rev. King was assassinated in Memphis. His murder was a blow to the civil rights movement that often rallied around King's nonviolent tactics and organizing efforts.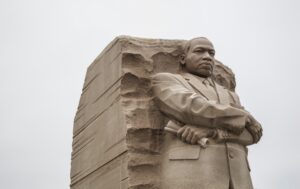 Since then, municipalities across the country have named over 1,000 streets after Rev. King to pay tribute to his heroic contributions. From busy urban roadways to calmer residential drives, 41 states have created public reminders surrounding Rev. King's legacy.
Now, the streets that bear his name are the battlegrounds for social justice.
First of all, naming roads in this manner has never been an easy feat. For example, in Chattanooga, a developer complained about what an MLK address would imply to clients. Elsewhere, local governments have created strict renaming ordinances to hamper any community effort to honor the Rev. King.
But even when successfully named for the Rev. King, the fight for justice and equality on our streets hasn't slowed down.
Some neighborhoods that bear the American hero's name are run-down and abandoned by businesses. They have higher rates of crime and are more racially segregated than other parts of cities.
Activists fought for historically Black neighborhoods to bear the honor of Rev. King's name during their initial push to honor his legacy – a sensible request. Historically Black areas deserve to celebrate the civil rights movement as their own. But after redlining and chronic disinvestment in social programs, historically Black neighborhoods are dotted with law enforcement.
These are the areas where police rove around in tanks with weapons of war slung over their shoulders. It's the complete abandonment of community policing. The prison-industrial complex has irreversibly altered the priorities of law enforcement. In fact, most officers don't even live in the areas they patrol.
The underinvestment leads to poverty, and the poverty leads to over-policing. It's a vicious cycle that began decades ago. And the solution will take decades more.
The Rev. Martin Luther King Jr. dedicated his life to the fight for equality and justice. Those principles are incompatible with contemporary policing. If he were here today, the Reverend would be leading the charge to reform policing so our neighborhoods could move forward together.