Autumn is in full swing throughout the country. This means people are visiting apple orchards, pumpkin patches, and attending NFL games to mark the onset of a new season. Last month, the Dallas Cowboys and Tampa Bay Buccaneers kicked off the NFL season with a bang and ever since, our Sunday televisions have been filled with spectacular touchdowns and laughable taunting penalties.
One thing we haven't seen too often at football games is kneeling.
Just five years ago, Colin Kaepernick's routine protests were the subject of thousands of hours of criticism from football fans, who saw his refusal to stand for the national anthem as disrespectful to the country and even worse, to veterans. We won't harp for too long on these criticisms, because there's no way we can say anything that hasn't already been said. It's worth mentioning, however, that when an organization like the NFL outright rejects the real purpose of protests, it's pretty revealing of that group's values.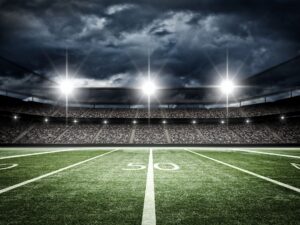 Last year, amid nationwide protests against police brutality and race inequality, the NFL finally backtracked from its original stance of encouraging all players to stand for the anthem. The league's commissioner, Roger Goodell, finally admitted the errors of his ways in June of 2020. He highlighted the NFL's concern for the systemic oppression of Black people and apologized for discouraging peaceful protest.
This apology did not mention Colin Kaepernick.
It's high time that we admit the NFL, from the league office to its 32 teams, blackballed Kaepernick. That's why the league's aforementioned apology couldn't reference the former 49ers quarterback. To do so would've been a clear indication that Kaepernick was welcomed back in the league. His absence from the NFL's statement is just as revealing, however.
If football isn't your thing, then it's fine to skim this section.
Kaepernick's statistics didn't warrant getting permanently benched when he was pulled by the 49ers staff. In 2016, he racked up 2,709 total yards and 18 touchdowns. Additionally, his career interception rate was only 1.8%, the second lowest in NFL history. Despite these marks, the 49ers replaced Kaepernick with Matt Barkley, who threw 10 interceptions in 2016 despite playing in five fewer games. Kaepernick finished that season as a backup, never to play another NFL snap.
When you compare his statistics to other second-string quarterbacks from around the league, the mistreatment jumps off the page. Kaepernick outpaced seven qualified starters in Total Quarterback Rating, one of the most well-regarded measures of a quarterback's level of play. He performed better in this statistic than Ryan Tannehill, Cam Newton, and even Carson Wentz – all starters for their respective teams. All of the available metrics paint the same picture. Colin Kaepernick deserved a job as a backup quarterback in the National Football League.
Unfortunately, the NFL shied away from ever offering him that role. There was a glimmer of hope in 2019, when the league organized a one-man combine for Kaepernick. League officials drummed up a media frenzy and gave the Kaepernick camp only two weeks to agree to the tryout. The NFL also required the former Niner to sign a waiver stating that he would never sue the NFL if he went unsigned. After all of that, the event imploded. Rather than performing at professional facilities, Kaepernick ended up at a high school throwing to former college talents. The entire effort was a charade, designed to give ammunition to Kaepernick doubters and avail the NFL of any blame.
And that's likely where Kaepernick's time in the NFL sphere ends. Maybe one day, the NFL will truly embrace the principles it claims to hold dear. Systemic racism is real and plagues every facet of our lives.
Thankfully, football players haven't stopped the protesting. Just last year, Mississippi State running back Kylin Hill declared his intent to skip his senior season unless his home state adopted a new flag. When Hill launched his protest, Mississippi had used a Confederate flag-inspired insignia for 126 years. But on November 3, 2020, voters approved a new design without such a hateful symbol.
Fighting for social justice in football is alive and well. It's different than it once looked and doesn't have the same players leading the charge. Maybe the NFL is on its way to really embracing these viewpoints and helping create positive change. It may also be true that swallowing the pill of explicitly apologizing to Kaepernick is a bridge too far. Either way, the world will never forget how he furthered the police reform movement.