Following the American Civil War, states were slow to officially end the practice of slavery. In fact, over 8 months passed between the surrender of the Confederacy and the full ratification of the Emancipation Proclamation. States like Texas, too remote for a perpetual Union presence, resisted the end of slavery and served as a sort of safe haven for slavers. This general refusal necessitated federal intervention – which kicked off the tradition of Juneteenth.
On June 19, 1865, Union Major General Gordon Granger marched into Galveston, Texas, and formally announced the abolition of slavery:
The people of Texas are informed that, in accordance with a proclamation from the Executive of the United States, all slaves are free. This involves an absolute equality of personal rights and rights of property between former masters and slaves, and the connection heretofore existing between them becomes that between employer and hired labor.
From that day forward, June 19th has been celebrated as the end of slavery. The next year, freedmen organized the first Jubilee Day and celebrated by distributing voting instructions and pooling money together to buy land. For decades, Texas and the national Black community recognized Juneteenth, until the Great Depression and Jim Crow-era oppression forced an end to the annual celebration.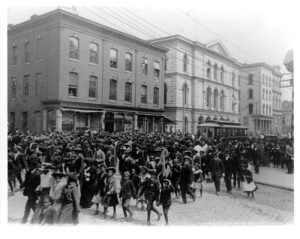 In the latter half of the twentieth century, however, Juneteenth sawa resurgence in popularity. In the late 1970s, Texas declared the day a "holiday of significance . . . particularly to the blacks of Texas," becoming the first state to do so. Since then, 46 other states have joined the Lone Star State and the holiday has garnered increasing mainstream attention.
But that's as far as we've gone with respect to Juneteenth…until now. Hawaii, North Dakota, and South Dakota have all refused to annually recognize the holiday – as has the federal government until today.
Juneteenth will now be a full-scale federal holiday on par with Memorial Day, Independence Day, Thanksgiving, and all of the others. U.S. companies use the federal government's recommendations for holidays with paid time off 97% of the time, per the Society for Human Resource Management. Corporate America will likely follow suit.
There is implicit value in recognizing June 19th annually. Slavery is one of our country's original sins and one we still haven't fully reconciled. Establishing Juneteenth as a federal holiday will spur this process, which requires total awareness and honesty. It's one of the most important holidays in the Black community and thus deserves this designation.
Juneteenth is an entire community's Independence Day. It deserves its admittedly late federal holiday title and should be widely celebrated.